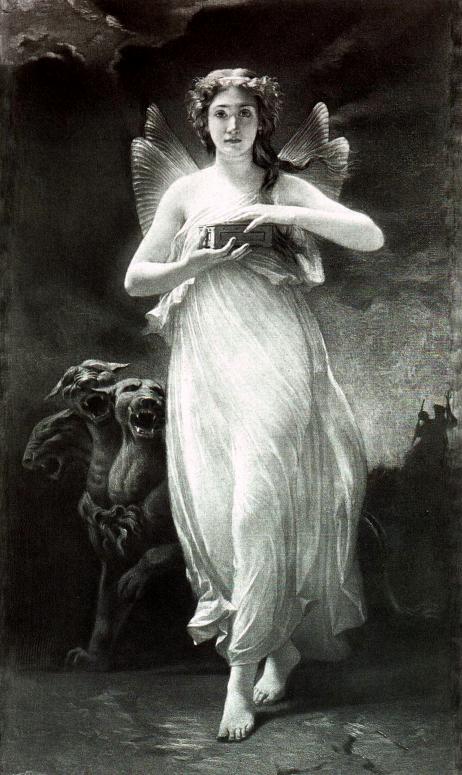 How can they meet us face to face till we have faces?
Till We Have Faces
, C. S. Lewis's greatest work of fiction, is the deepest and most layered of his books, and was also Lewis's favorite of his own works. But it is also a very simple myth, a retelling of the myth of Cupid and Psyche.
Manganiello
says,
For Lewis the "grand miracle" of Christianity is its character of a "true myth" that merits our "imaginative embrace." This myth surprises Orual by the joy of its truth in the Person she meets face to face at the end of her life.
I am reminded of the movie,
The Saint
, with Val Kilmer, and the quote,
"It takes three miracles to make a saint."
Psyche 1) sacrifices herself to the "Brute", she 2) sacrifices, at Orual's demand, her husband's trust in her, and 3) she goes through Hades to get beauty for Orual. When Orual goes to see Psyche after her first sacrifice, Psyche tries to explain to Orual what has happened. "You won't understand the wonder and glory of my adventure unless you listen to to bad parts." After Psyche endeavors to make Orual understand the true nature of her marriage to the god of the mountain Orual responds, "If this is true, I've been wrong all my life, everything has to be begun over again." There were many times when the truth was there for her to see, but she "put it aside" (ch. 14). Orual begs her sister to return with her, to which Psyche responds, "No, no, Maia. I can't come back to you. How could I? But you must come to me." (ch. 11) She explains the nature of her husband, "Don't you think a dream would feel shy if it were seen walking about in the waking world?"
Orual does not understand, nor attempts to understand, saying, " How can you know if you have never seen him?" (ch. 14) Orual threatens to do harm to herself unless Psyche spies in her husband, thinking what she is doing is out of love for Psyche but it is really selfishness. In response to Orual's demands, Psyche says, "You are indeed teaching me about kinds of love I do not know. It is like looking into a deep pit. I am not sure whether I like your kind better than hatred...Whatever comes after, something that was between us dies here." (ch. 14)
Because of Orual disbelief, both sisters must perform labors. Psyche completes the tasks while Orual bears the burden. The god tells Orual, " You shall wonder the earth. You too shall be Psyche." Through this she is transformed. As Peter J. Schakel puts it, "Her life of toil and suffering—physically in battle and mentally in toil—rather than death, becomes her sacrifice." She slays her old self, offering it as the sacrifice.
Manganiello
says,
To her great surprise Orual learns that she "bore the anguish" while Psyche "achieved the tasks" (312) of sorting seeds of grain, acquiring golden wool, fetching a cup of water, and descending to the Deadlands. By sharing these seemingly unbearable burdens, Orual anticipates the kenosis, or self-emptying of Christ (cf. Phil. 2:5–11), that Hopkins called "the great sacrifice."

Orual marvels at how this "way of exchange" or substitution can render any one happy. But this is precisely what she witnesses: Psyche "was merry and in good heart. I believe, from the way her lips moved, she was singing" (310–311). Psyche's actions resonate with the key notes of the Old Testament song of the suffering servant. Her naturally Christian soul prepared for its great mission from the time in her youth that she showed compassion for the people of Glome in their pain. As Orual tells her, "You healed them, and blessed them, and took their filthy diseases upon yourself" (47).

Psyche's willingness to be purified by a series of trials prefigures the great self-offering of Jesus, who "for the joy set before him, endured a cross" (Heb. 12:2). Since the god advises Orual, "You also shall be Psyche," she is set to experience the same blessedness that results from partaking of the divine nature (2 Pet. 1:4) or from "atonement."...
This central paradox also operates in the powerful closing scene of the novel, in which Orual sees the "most dreadful, the most beautiful" face of the god of the mountain. "Even the love between the sexes," to quote Lewis, "is, as in Dante, 'a lord of terrible aspect.'" By participating in Psyche's sufferings (cf. Col. 1:24), then, Orual begins to see the "terrible beauty" of justice tempered by mercy and fulfilled in love.
As the Fox tells Orual, "We are all limbs and part of one Whole. Hence of each other. Men and gods, flow in and out and mingle." Even the Fox, with his "doctrines of Glome and wisdom of Greece" (ch. 13) begins to see that he has misled her, saying, "I never told her why the old Priest got something from the dark House that I never got from my trim sentences. . . . Of course, I didn't know. I don't know now. Only that the way to the true gods is more like the House of Ungit. . . . The Priest knew at least that there must be sacrifices."
The Fox now begins to see the truth of Colossians 3:10-11, "And have put on the new man, which is renewed in knowledge after the image of him that created him: Where there is neither Greek nor Jew, circumcision nor uncircumcision, Barbarian, Scythian, bond nor free: but Christ is all, and in all."
In her article,
Facts, Mysteries, and Epiphanies, Kathryn Lindskoog
writes,
There is no overt reference to Christ in Till We Have Faces; in fact, there is not even any reference to Hebrew monotheism. But there is a clear reference to Eros, the "Brute" bridegroom of Psyche. (In Christian tradition, the divine bridegroom is Christ: "...as the bridegroom rejoiceth over the bride, so shall thy God rejoice over thee," Isaiah 62.5.) Just before Orual's transfiguration, she heard voices say "He is coming. The god is coming to his house. The god comes to judge Orual." Suddenly "The air was growing brighter and brighter about us; as if something had set it on fire. Each breath I drew let into me new terror, joy, overpowering sweetness. I was pierced through by the arrows of it." "The only dread and beauty there is was coming, was coming." This echoes Dante's experience at the end of Paradise: "So my mind hung in abeyance, staring fixedly, immovable, intent, its ardor increasingly enflamed by the sight. Anyone who sees that Light becomes a person who would not possibly consent to turn away to any other sight; for the good that is the object of all desires is ingathered there in its fullness, and elsewhere it falls short of its perfection...For Orual (and C. S. Lewis), the answer is an encounter with divinity himself. At the end of her adventures, Orual realizes that before the face of God all questions die away and even all words die away.